*


Exciting Mews!!

MeowPrints is moving into our bigger mission by turning our focus to rescue/adoption and education pertaining to saving and improving the lives of cats. To read about our transition, click on the "Donate" button to the right.

Purrfect Savings!!

When looking for that purrfect gift, visit the Cat-tique and surprise your loved ones with a special kitty of their very own. They are truly purrfect for everyone. There is no food to buy and no litter boxes to clean, just heartwarming charm to share. You can almost hear them purring. Touch the heart of everyone on your list today!

20% off all inventory in-stock, now through November 1, 2012.

Use Coupon Code: CATOBERFEST when checking out.

Don't miss out. Pounce on the Savings Today!!


The categories below are specialty shops within the Cat-tique. "Capture" any item and be whisked directly to that boutique. Pounce on the Cat-tique button above to prowl around the storefront. Here, you will find services offered by MeowPrints to ease your shopping needs, for a purr-worthy experience that will leave you feelin' feline.
| | | |
| --- | --- | --- |
| *Featured in Cats Magazine* | *Featured in Cats Magazine* | *Featured in Cats Magazine* |
| *Featured in Cats Magazine* | | |
| | *Featured in Cats Magazine* | *Featured in Cats Magazine* |
| | | |



Sign up for our mailing list and receive special offers & discounts only available to our subscribers.
Read heartwarming stories and get updates to see "What's Mew" within the MeowPrints community.


Join "Cat Tales" Today!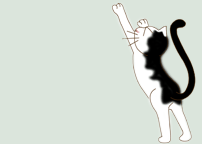 Read Kodiak's blog at
Cat Tales - Unleashed
and share his adventures
Visit one of our specialty boutiques for all your cat gift needs. Explore the shop index below to find the purrfect gift for all the cat lovers on your list.

Amewsing Antics
Puzzles, magnets, bottle charms and cuddly plush

Basking in the Sun
Add some Cat-titude to your yard with garden decor, cat planters, frolicking kittens and wind chimes

Attirely Kitty
Cat jewelry, pins, barrettes, handbags and apparel

Kitty Coorespondence
Cat books, journals, notepads and greeting cards

Meow Treats
Limited time offers and special purrr-chases

Shreddin' Paper
Scrapbook supplies, paper crafts, chalks, rubberstamps and inks

Meowy Occassions
From Birthday to Christmas - Cat ornaments, Christmas decor, cards and Halloween decor

The Cat's Meow
Home decor & more - Cat prints, collectibles, pictures, mirrors, statues, figurines and mugs

Whiskers 'n Kittens
Cat toys and gifts for all your feline friends

Look What the Cat Dragged In
Here you will find the newest items added to the Cat-tique

Gift Certifi-Cats
Can't decide which gift will tickle their whiskers? A gift certificate makes a purrfect gift for all the cat lovers on your list.